On the road, there was a wretched man, a man who was wretched, who was lying in the middle of the road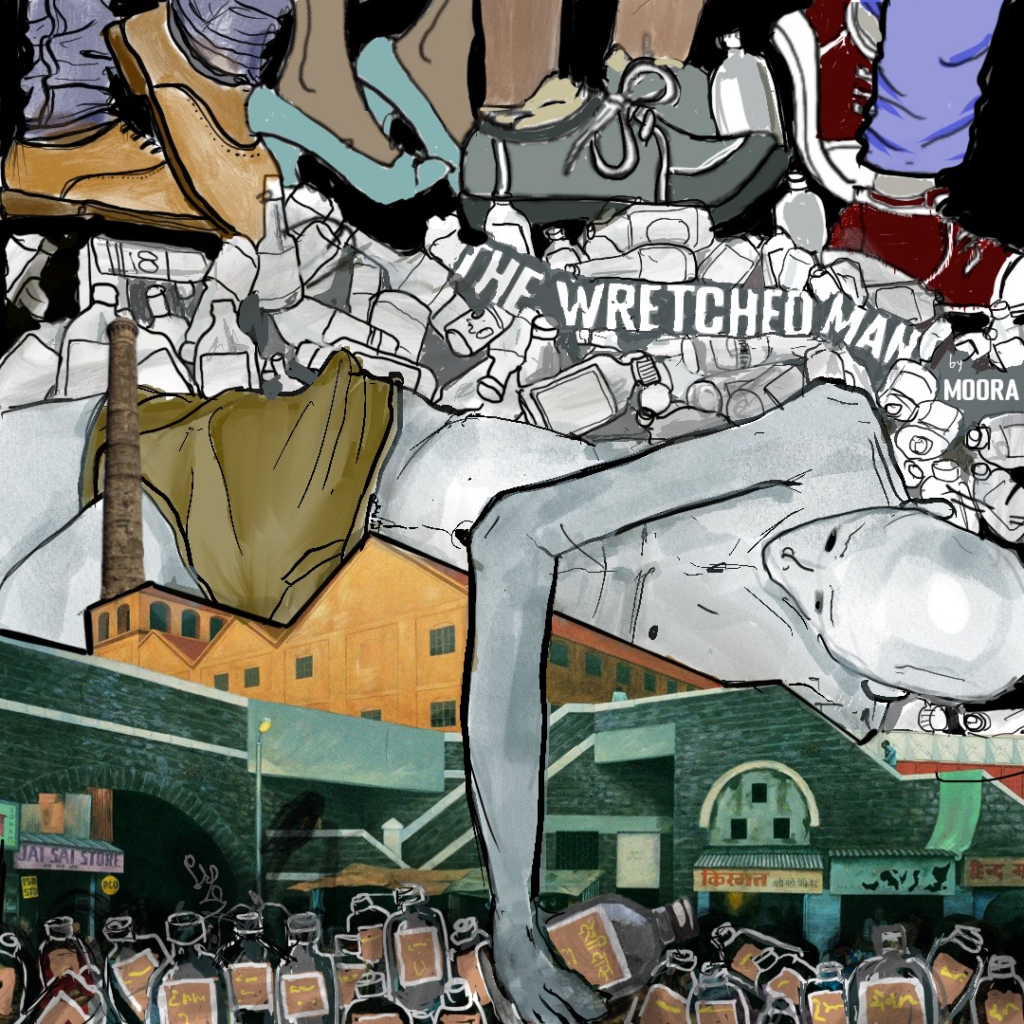 Illustration by Ajinkya Dekhane
The toys with the sad faces, 
nobody likes them.
As I go through the aisles of Max Fashion,
reading 'The story of a shipwrecked sailor',
thinking about that one sad looking turtle toy,
(who nobody likes)
imagine You finding a way through the water.
You went missing in the water,
doesn't mean You won't be back, 
Velasco got back, 
and so will You.
At that moment, 
I realise, 
in a matter of seconds
the difference between Velasco and you, 
Velasco's body was never found, 
it was believed he was dead, 
until he turned up after 10 days lifefull, 
unlike You 
who was found lifeless in only two days.
Would You have become a sailor too, 
like Velasco, 
had you been alive? 
One never knows. 
One will never know.
The day You went missing, 
I had all the visions of how 
you would have reached a shore, 
held on to some rock, 
somewhere, 
and how You, fully drenched would find a village, 
some people, 
some town, 
a mobile phone 
and make a call 
and ask me to come pick you up. 
You would be sitting, 
drenched, 
sneezing 
and look at me and say, 
"Humko chhod kar kahan chale gaye the? Hum kab se wait kar rahe hain." 
(Where did you leave me here? I have been waiting for so long.) 
When the search team returned that night, 
My only concern 
was that You would be chilly 
because of wet clothes 
and will have to sleep hungry. 
Oh! You will fall sick, ya.
That day when I was returning home, 
in urban poorly built roads of Pragati Path. 
Progress Road. 
Why would one name a road Progress? 
On the road, 
there was a wretched man, 
a man who was wretched, 
who was lying in the middle of the road, 
shirtless, 
probably drunk and passed out, 
maybe, 
maybe dead. 
The vehicles and pedestrians kept going, 
a small break, 
a little turn, 
avoiding the touch of the wretched man, 
and going ahead, 
sparing no more than three seconds glance. 
One. 
Two. 
Three. 
That worried me. 
What if the villagers saw You and went ahead. 
You won't be drunk and passed out, 
But might have fainted, 
because of being hungry, 
might have been sick 
because of being drenched. 
Will the villagers pass you after sparing three seconds only? 
One. 
Two. 
Three. 
No.
They won't, 
they will take care of you. 
The urban Pragati Path commuters won't take care of the wretched man.
They were wretched, 
the shirtless man lying on the road wasn't.