Dreams and reality blur in this vividly nostalgic poem – as it weaves a tapestry of symbolic memories. The indomitable spirit of Chithrangi flashes in remembrance for the young poet as fear, belonging, resilience, love and loss come alive in the wilderness: leaving behind only the enigmatic flutter of a butterfly; the symbol of an enduring familial bond.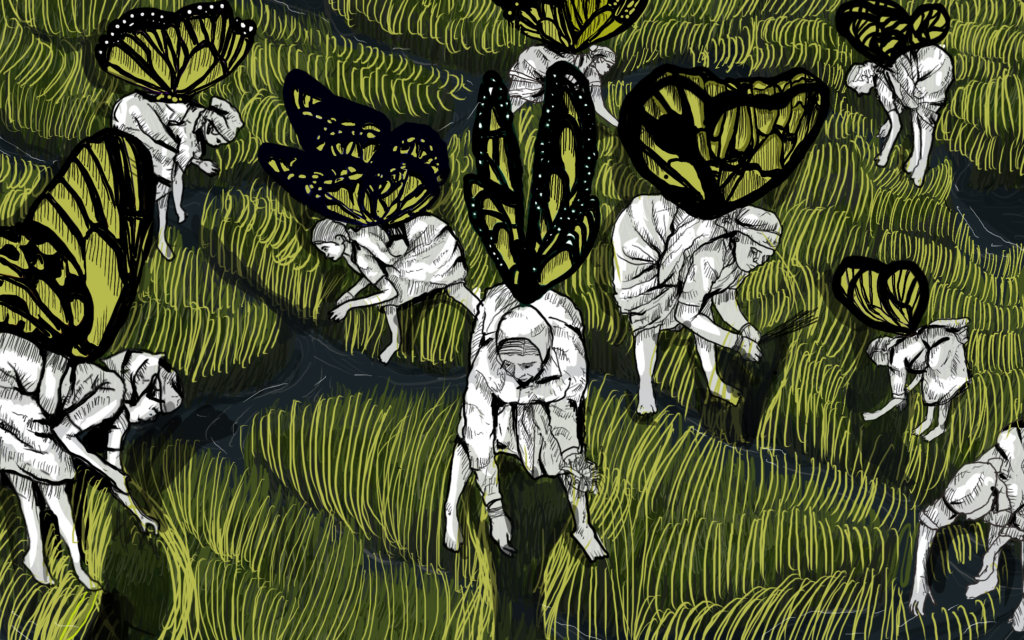 Illustration by Ajinkya Dekhane
Poem 1: Butterflies near burial ground
Scornful eyes chased my grandmother; Wandering through the naked plain, 
She toiled all day in the forest. 
The wildness of her anger belted down to the belly
Emerged as a song sometimes,
much as obscured flesh bodies 
inside our ancestral paddy fields. 
Chithrangi, 
Dark skinned lady with vayal saree and big pottu, Sacrificed her body to the dreams of the hut, Covering all her scars with a wail 
and a smile to her pawed friend, Thangam. 
A beautiful saddest smile, I remember 
I was a child then, 
mostly trudging with her to the field, 
carrying small water cans 
to see the butterflies 
relaxing in the thorned flower fences. 
Except for butterflies, 
I feared almost everything. 
The smell of the purple flowers I touched
which went missing the next day; 
The teeth of the big mustached man who flogged Thangam for licking; 
Whenever he crossed my colony, 
I ran under my grandmother's peacock saree To feel a little safe. 
She lifted, kept me on her hip, 
kissed on my cheeks,
touched my nose 
and said, "I too have this angry nose, pattu" I laughed. 
Hopping on and on 
along the narrow path 
filled with thorns, palms, worms, rats and snakes, We traveled. 
"Jasmine attract snakes" 
as she plucked a flower grown from the wasteland to keep between her hair. 
Different Urupidi1 were hung 
along the big banyan branches 
sheltering the cemetery and the souls. Menaced to pass this unvisited place 
of mounted burial land, 
filled with the smell of blood, 
I stopped. 
Knowing my fear, 
She lifted me to narrate a tale, 
Of a warrior who carried pain and violence 
rode a horse to reach the stars. 
I wondered and asked, "How can one reach stars? She smiled. 
Upon arrival at the pond, 
Her voice slowly disappeared 
I sat near the Nondi Veeran2 temple and watched her slowly go near the pond 
Her calloused hands touched the water; Her never-settled wrinkled heels 
navigated the steps to enter the pond.
First step, Second step, Third step 
Then, she turned back to see me. 
Smiled and said, "Go back home and tell your amma.."  
Before her message could fully unfold 
I woke up from that dream, 
with the vayal pink saree 
covering me as a blanket in this dream.
Same colony 
Same people 
Without my aaya
Walked towards the cemetery; 
towards the pond; towards the past; 
to hear the stories of Chithrangi. 
Inside the Nondi Veeran temple 
Saw a butterfly fluttering 
went near her and asked, 
Are you my grandmother? 
The expelled placental waste of newly calved cow/buffalo hung in gunny bags on big banyan trees believed to increase the milk yield from cattle.
A local deity of folklore.
On a moonless night,
In one corner of my dark room, 
I saw a cat, 
walking elegantly towards the door, reciting a poem for each step. 
I carefully caught the word 
and listened to every poem, 
but none embodied any form. 
Looking at this fatal situation, 
the cat laughed. 
Closing the doors, 
I ran out of that strange room, 
to see dozens of blackened empty vessels piled up at an untouchable distance from the river and me. 
Bare feet soaked in blood 
I reached the river's bed.
The reflection of the moon 
Turned into dust of my grandmother's. 
Should I cry? 
Carrying an ocean of unheard raindrops, I break down every monsoon, 
to grieve to this invisible world 
and to write to my ancestors. 
I write about flowers; 
I write about butterflies; 
Well, do I feel them? 
Do I write like I own them? 
I can hear the chuckle of the cat. 
Then, 
I walk back to my room thinking of, 
Every verse I wrote; 
Every citadel I built; 
Every forest I resided in;
Everything echoed a void 
I could never decipher
How many times should 
I die to understand this? 
How many flowers should 
I bury in my isolation-filled-graveyard? How much of 'me' do you need 
To empathize with me? 
Your ancestors may have not 
theorized my feelings? 
Am I not 
the evidence of 
distorted feelings and untold trauma eternally trying to escape 
in this glorious segregated society? 
Alright! 
I may have not escaped this forest, but have returned to my roofless house, wrenched violently in a warm breeze. With all the obscure feelings, 
the broken mirror kept at the entrance reflected nothing,
but the whiskers.
Does the cat eat me for a poem? Or have I buried myself into that river? Am I just a word or a Sentence? Tell me, 
Which one is dream 
and what is reality? 
Putting up a long fight within myself, I no longer bother about this disorientation. I scream less to tell what I feel; 
I die more in my morning dreams; I see butterflies near my cemeteries; And, 
Here's to my existence.
But remember, 
I am dying in every dream, To resurrect in my reality. 
Who cares? 
The cat is still in the room The cat is still in the room 
— Roy Anto