Education was historically denied to Dalit communities for centuries. Babasaheb's extraordinary accolades would go on to become a pride for his people.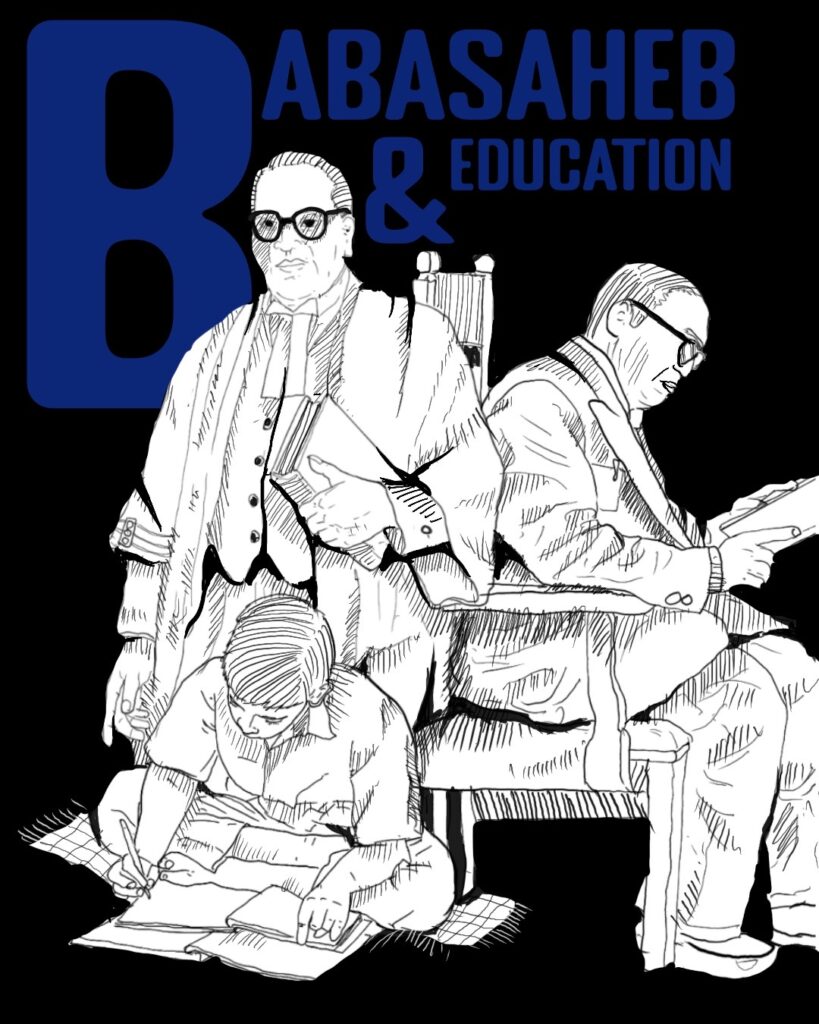 Illustration by Ajinkya Dekhane
Dr B. R Ambedkar was an eminent jurist, economist, leader and also the most prolific thinker of his time. His important work in social reform, law and politics is only paralleled by his extraordinary educational qualifications. In his lifetime, he earned a total of 9 degrees, which were B.A, M.A(2), M.Sc, D.Sc, PhD, LLD, D.Litt and Bar-at-law. While his formal education is an incredible feat in itself, Babasaheb's wisdom and acuity made him one of the greatest minds in history. His educational qualifications till date remain an aspiration of thousands of Dalit families for their children.
When he acquired his high school matriculation in 1907 and entered Elphinstone College in 1908, Babasaheb became the first from his Mahar caste to do so. By 1912, he obtained a degree of political science and economics from Bombay University. At the age of 22 in 1913, Dr Ambedkar was awarded the Baroda State Scholarship under a scheme established by Sayajirao Gaekwad, thus enabling him to pursue a postgraduate education at Columbia University in New York, USA.
In 1915, he passed his first M.A majoring in economics, and other subjects of Sociology, History, Philosophy and Anthropology.
In October 1916, he enrolled for the Bar course at Gray's Inn, and at the same time at the London School of Economics where he started working on a doctoral thesis. On 9 May, he presented the paper Castes in India: Their Mechanism, Genesis and Development before a seminar conducted by the anthropologist Alexander Goldenweiser.
His second master's thesis was on "The problem of the rupee: Its origin and its solution". In 1923, he completed a D.Sc. in Economics which was awarded from University of London, and the same year he was called to the Bar by Gray's Inn. Ambedkar received his Ph.D. degree in economics at Columbia in 1927.
He believed that education is a birthright and must be free and accessible and fought the rights of Dalits and women. In the 3 February 1928 edition of Bahishkrut Bharat, a newspaper founded by Ambedkar, he wrote, "Knowledge and learning are not for men alone; they are essential for women too…if you want sudhaaranaa for future generations, educating girls is very important. You cannot afford to forget my speech or to fail to put it into practice."
Dr Ambedkar's watershed contribution to women's rights was his efforts in the passage of the Hindu Code Bills during the 1950s that fought for women's right to education. Babasaheb was one of the foremost advocates of women's education. In his speech on 20th July 1942 at Nagpur, Ambedkar said, "I measure the progress of a community by the degree of progress which women have achieved," thus signaling a universalisation of education to society and the insight that its progress was contingent on education for women.
Babasaheb truly believed that education was a weapon of social change especially for downtrodden communities. The real-life embodiment of Dr Ambedkar's pioneering vision in making knowledge free and accessible is enshrined in the Article 45 of the Indian Constitution that allows free and compulsory education for all Indians today irrespective of caste or gender. Dr Ambedkar's remarkable scholarly accolades proved he was not only a lifelong learner, but also a skilled teacher and imparter of knowledge.
Curriculum is one of the most notable ideas in Dr Ambedkar's views. He felt that students must be trained to learn to "distinguish between the matter of facts and matter of opinion". The curriculum should enable the learners to state the questions on everything fairly (with sympathy). They should be able to analyse a proposed idea and observe what comes before accepting and rejecting it, thus vouching for progressive and scientific ideas.
Dr Ambedkar's academic journey, advocacy and work in education policy is largely responsible for the right to education that we collectively experience in modern India. The debt of gratitude that we owe to Babasaheb can only be paid by working towards an accessible and constructive education system aligning with his ideals of social justice.
Sources:
Dr B.R. Ambedkar: The Buddha and His Dhamma
Dr Ambedkar at the Round Table Conference, 1932, WS, vol. 2, 502- 545
Dr B.R. Ambedkar: Not submitted to the Indian Franchise Committee on the Depressed Classes, 1932, WS, vol. 2, 491 – 500 (Lothian Committee).
Dr B.R. Ambedkar: Castes in India. Their Mechanism, Genesis and Development, 1916
Dr B.R. Ambedkar: Annihilation of Caste, with a Reply to Mahatma Gandhi, 1936
Dr B.R. Ambedkar: What Congress and Gandhi have done to the Untouchables? Samyak Prakashan, New Delhi 2012.